Member
Staff member
Moderator
Media Staff
Site Supporter
MomoCon brings together fans of Japanese Anime, American Animation, Comics, Video Games, and Tabletop Games to celebrate their passion by costuming / cosplay, browsing the huge exhibitors hall, meeting celebrity voice talent, designers, and writers behind their favorite shows, games, and comics and much much more over this 4 day event.
In partnership with UGL (United Gaming League), Mario Kart Central and USMK (US Mario Kart) will be organizing all Mario Kart operations at MomoCon!
Be on the lookout below in the near future for confirmed player entries from
ALL OVER THE WORLD
!
It is highly recommended you make plans ASAP for the biggest Mario Kart LAN to date, open to the public. Not only can you play for prizes, but more importantly, meet other members from the community.
For more information, join the USMK discord server
here
.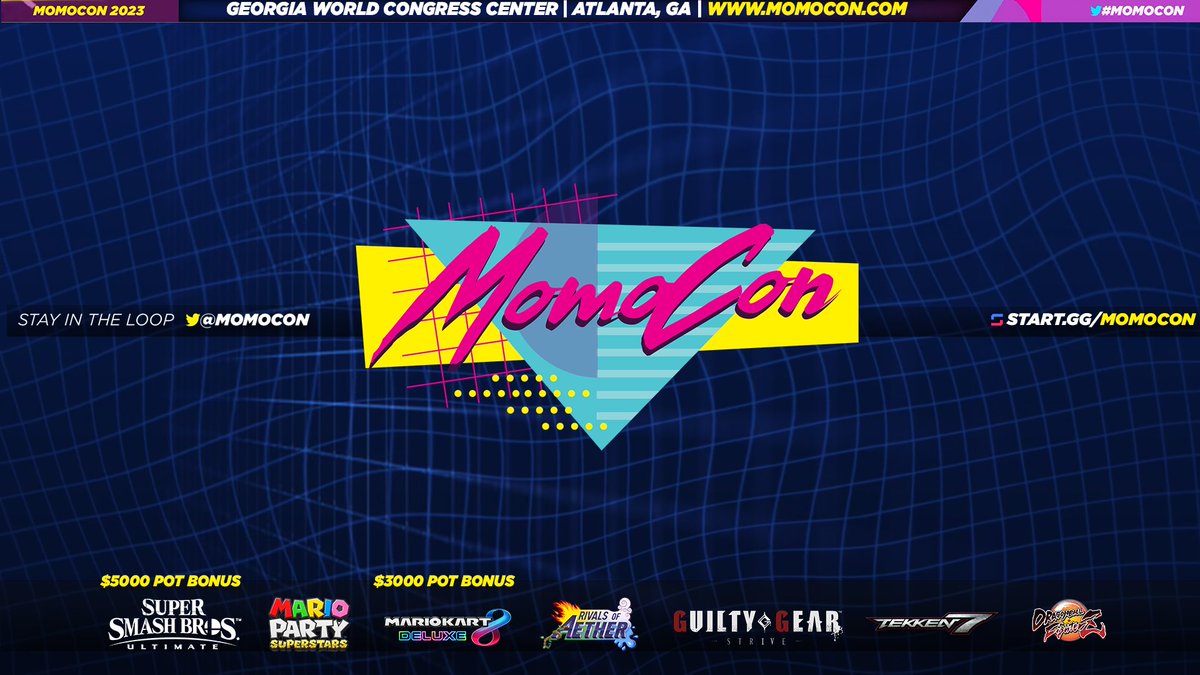 Please visit
https://www.momocon.com/
for more information about the convention, read
this page
for COVID protocols, and
CLICK HERE
for hotel information.
MomoCon will feature brackets in the following games:​
Super Smash Bros. Ultimate
(Singles + Doubles)
Rivals of Aether
(Singles + Doubles)
Mario Kart 8 Deluxe
(12 Man Battlemode + 2v2 MOGI + 12 Man FFA)
Mario Party Superstars

Tekken 7

Guilty Gear Strive
You can find all broadcasts for the event below:​
VGBootCamp
+
VGBootCamp2
UGL
This event is
BYOC
, which means
BRING YOUR OWN CONTROLLER!
Any type of controller is allowed, however please note that we will not have any backups for you, so make sure to be prepared for it.
VENUE FEE​
In order to attend MomoCon, you are
REQUIRED
to buy a pass from the convention's website. Be mindful that this is a
3-day tournament
if you are planning to compete.
You can buy your pass here:
https://www.momocon.com/registration/
.
While convention passes will be available day-of the event,
tournament registration for Smash Ultimate ends on Sunday, May 21st
at
11:00PM EDT
.
Keep in mind that tickets are
non-refundable
, as described on the convention's website linked above.
ENTRY FEE​
Ultimate Singles (Switch)
: $15 (cap at 1,024 players)
There will be a
$5,000 Pot Bonus
paid out to the
Top 8
of Singles!
Ultimate Doubles (Switch)
: $10 per player (cap at 128 teams)
Mario Kart 8 Deluxe 2v2 MOGI/12 man 2v2 (Switch)
: $10 per player (cap at 96 teams)
There will be a
$1,000 Pot Bonus
!
Mario Kart 8 Deluxe 12 Man FFA (Switch)
: $10 (cap at 384 players)
There will be a
$2000 Pot Bonus
!
Mario Kart 8 Deluxe 12 Man Battle Mode
: Free to Enter (Cap at 72 players)
Mario Party Super Stars
: Free to Enter (cap at 48 players)
Rivals of Aether Singles (PC)
: $10 (cap at 128 players)
Rivals of Aether Doubles (PC)
: $10 per player (cap at 32 teams)
Tekken 7 (PS4)
: $10 (cap at 256 players)
Guilty Gear Strive (PS4)
: $10 (cap at 128 players)
------------------

STAFF

DarkKing
- Partner, United Gaming League
Cagt
- Lead Esports Consultant
NīGHT -
MK8DX Consultant
Danny Fathom -
Head National Tournament Organizer
MegaJkeezy -
National Tournament Organizer
8oh5
- Parental Liaison and Player Safety
CASTERS:
JP Giviner
Pyrus
Rookie
Princesss Brat
Vanni
RidingMyPidgey
Last edited: