Hello, and welcome to Mario Kart Central! This guide will help you understand how the registry works, and how to start using the registry to help you participate in MKCentral tournaments.
The MKCentral Registry is used as a universal database that players use to sign up for team, squad, and solo tournaments for a variety of games in the Mario Kart franchise.
Signing Up
First, if you have not already, make your MKCentral account. The button to do this can be found in the top right.

You're now ready to make your registry profile! Click the "Registry" tab in the hotbar and then click "Player Sign Up" in the top right.

You'll then be prompted to details including your Country, your Discord ID, and your Friend Code(s). It's ok if you don't have consoles for certain games, as you can go back and add them later on. However, once you enter a Friend Code, you cannot change it unless you ask a site staff member. Please make sure your Friend Code is 100% correct before submitting it to the registry.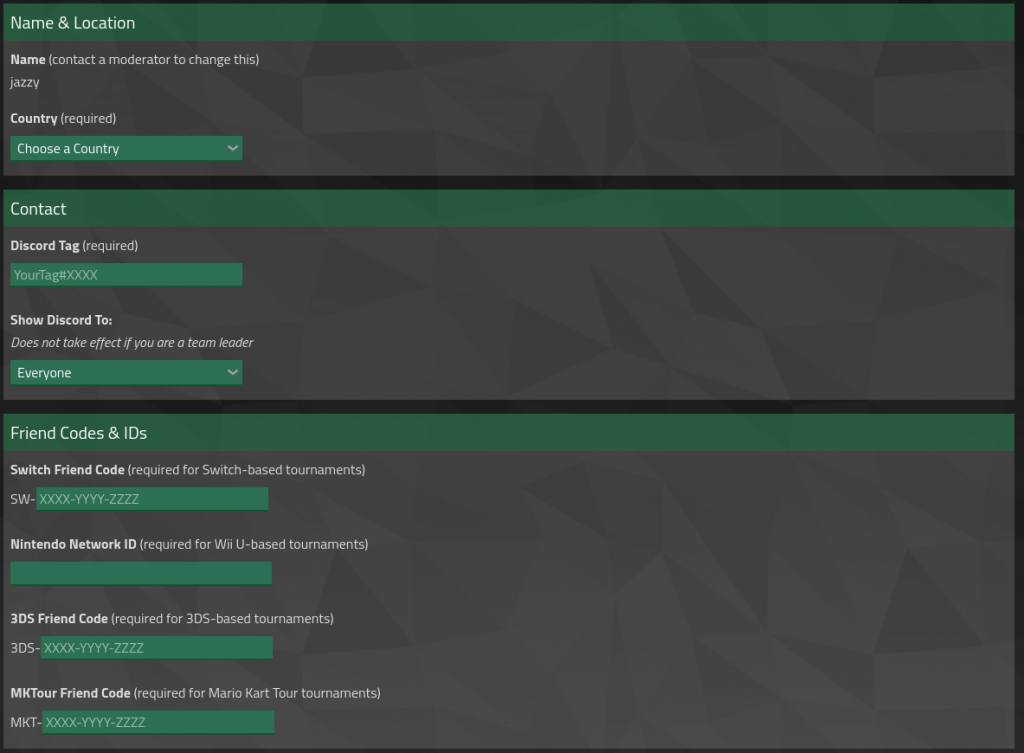 You're now ready to sign up for tournaments on MKCentral!
Signing Up For A Tournament
You can find a listing of all the tournaments by clicking Tournaments on the site hotbar, which will also be announced in the #announcements channel in the MKCentral Discord Server.
There's three types of tournaments that are hosted on MKCentral: Solo, Squads, and Team events. Each type of tournament has a different way to register.
Solo Tournaments
Since it's only you playing the event, all you need to do is specify if you're able to host or not (hosting refers to being the one to create a friend room for the round to be played, as well as being responsible for submitting results), and your name that you will use in the tournament.

Squad Tournaments
Squad tournaments are events where you and anyone else registered on MKCentral can team up to play together as a squad against other squads. Squad events are used for 2v2, 3v3, and 4v4 events. There may also be other occasions where the squad feature is used, but it is uncommon.
Creating a Squad
If you're the first person in your squad signing up, you will be designated the captain of the squad when you sign up. You will have to input your squad's tag, and if your squad can host or not.
Note: If you specify that you're able to host and you're the captain of the squad, you will be the one who will be hosting. If someone else on your squad can host, make them the captain of the squad. Each individual person will have their own name as well, and every name must include the tag in it somewhere.

If you are the captain of your squad, you will also have to invite everyone on your squad. To invite people, go back to the main page of the event you signed up for. You should see a prompt to invite players to your squad, and then use the search bar to search for people on your squad. Once you've found them, press "Invite" to invite them.

Accepting a Squad Invite
If you're the one being invited to the squad, you should see a notification on your registry page saying that you've been invited to a squad, which looks like this:


After that, you'll be prompted to either accept or reject the offer. If you accept, you're part of the squad now!

Team Tournaments
Team events are often longer, spanning over multiple weeks. Each person is only able to be in one team per game mode at a time. For example, you could be in a team for 150cc and 200cc, but you cannot be in 2 teams for 150cc. If you leave a team during a tournament and join a new team during the same one, you will be unable to play for either team for the rest of the tournament. Events often have overlap with each other, so make sure you find the right fit for you!
Creating a Team
To create a team, simply go to the "Teams" page of the registry, and click "Create New Team."
You'll then be prompted to input details of your team, like the name and tag, as well as an optional logo. Further details like recruitment status, language, and a team description can also be added. Keep in mind that the tag and name cannot be changed without a site staff member's help once you submit, so please make sure everything looks good before creating your team!
Additionally, make sure the team you create is in the category that your team plays. If your team is a MK8DX 150cc team, make sure to select that.
Example of what it looks like to create a team: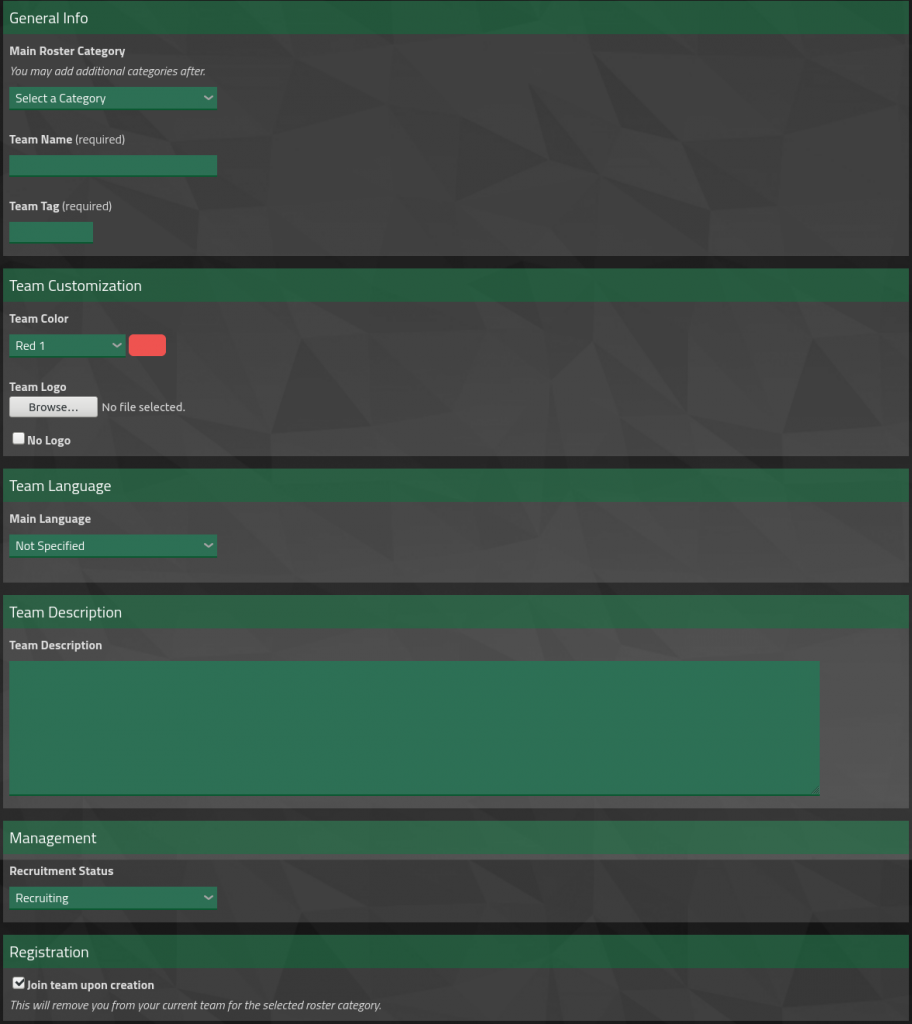 Once you've created your team, it will have to be approved first, but once it does you're ready to invite players!
Inviting Players
Inviting players to teams works a bit differently than inviting players to squads. To invite a player, you must go to your team page, and then click "Manage Rosters" at the top.

From there, it works the same as the Squads invite page. Search the player you want to invite, and click "Invite". They will have 14 days to accept or decline it, and after that if nothing is done then the invite will expire. You can invite multiple players at once as well.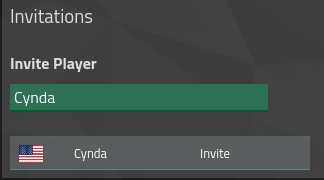 If the player you have invited has been in teams in the past, then their transfer will have to be approved first.
Joining a Team / Transferring Teams
To join a team, your team leader has to send you an invite first. Once you've gotten your invite, it should look like this:

Once you click "Check your team invites here", you will be brought to a screen where you can accept/deny the invitation:

Once you accept it, your transfer will have to go through an approval queue if you've had transfer history in your past. Once it's been accepted, you're registered for your new team!
Editing / Customizing Your Team or Profile
There's some things that you can edit yourself on your registry and team profiles, but there are some things that cannot be changed.
The things you can change are:
Discord ID (and who can see it)
New Friend Codes for games that you haven't registered yet (if you already have a friend code for a game you cannot change it without a site staff member's help)
Profile message
On the teams page you can change (Team Managers only):
Team Color
Team Logo
Main Language
Team Description
Recruiting Status
What you cannot change:
Friend Codes for games you've already registered
Your name on the registry
Your nation (most likely will not be changed ever unless you've moved to a new country)
If you need help / need something changed, please contact a Moderator so all of your details can be 100% accurate to avoid an accidental rule violation in MKCentral hosted events.
If you have any further questions, don't hesitate to contact a Site Staff member for help. We hope you enjoy playing in tournaments on MKCentral!