8va ~ Going the octave higher
Staff member
Administrator
Amplify Staff
Site Supporter
Founding Member

End of Summer 2021 Updates
​
Hi everyone, hope you had a great summer! (Or winter, for those in the southern hemisphere
) It's been a while since the site has seen any major changes, but that doesn't mean we've been slacking. I've personally been working on what is, without a doubt, the
biggest update to the site since launch
, and it's full of great additions and changes I hope you'll enjoy. This thread will showcase and document what's new and improved as of today. In addition, if you're a
site staff member
or are involved in
organizing tournaments
, there will be an additional thread (or two) to read that explains the changes specifically pertaining to your role. Since this update will change some of the ways you use the registry,
we encourage you to take the time to read through this post
, so you're aware of the updates to the site.
First Things First: Registry Name Change Queue
Like was added to the forums recently, we now have a feature to
request a name change
on the registry. You can even request a change to your
team's
name or tag. You can access this feature clicking the "Edit Team" or "Edit Profile" button from your team's page or profile. Note that changes require moderator approval, and you can only change them a few times a year. If you recently changed your or your team's name/tag, you will be shown when you can next request a change.
Important:
We would encourage you to use this feature instead of creating a support ticket if you want a name/tag change.
This will make things a lot easier for our staff since it is much more efficient, both for you and ourselves.


Our Biggest New Feature: Tournament Series
This is the most important new feature of the bunch. There is a
new page
on the registry, under the Tournaments tab, called
Tournament Series
. This serves both as a handy way to find historical tournaments and also organize tournaments by, well, series. Here, you'll find series for MKU, Clan War League, FFAs, and plenty more, even including historical tournaments from before MKC, going all the way back to MKWii's World Clan League. Here's what the page looks like: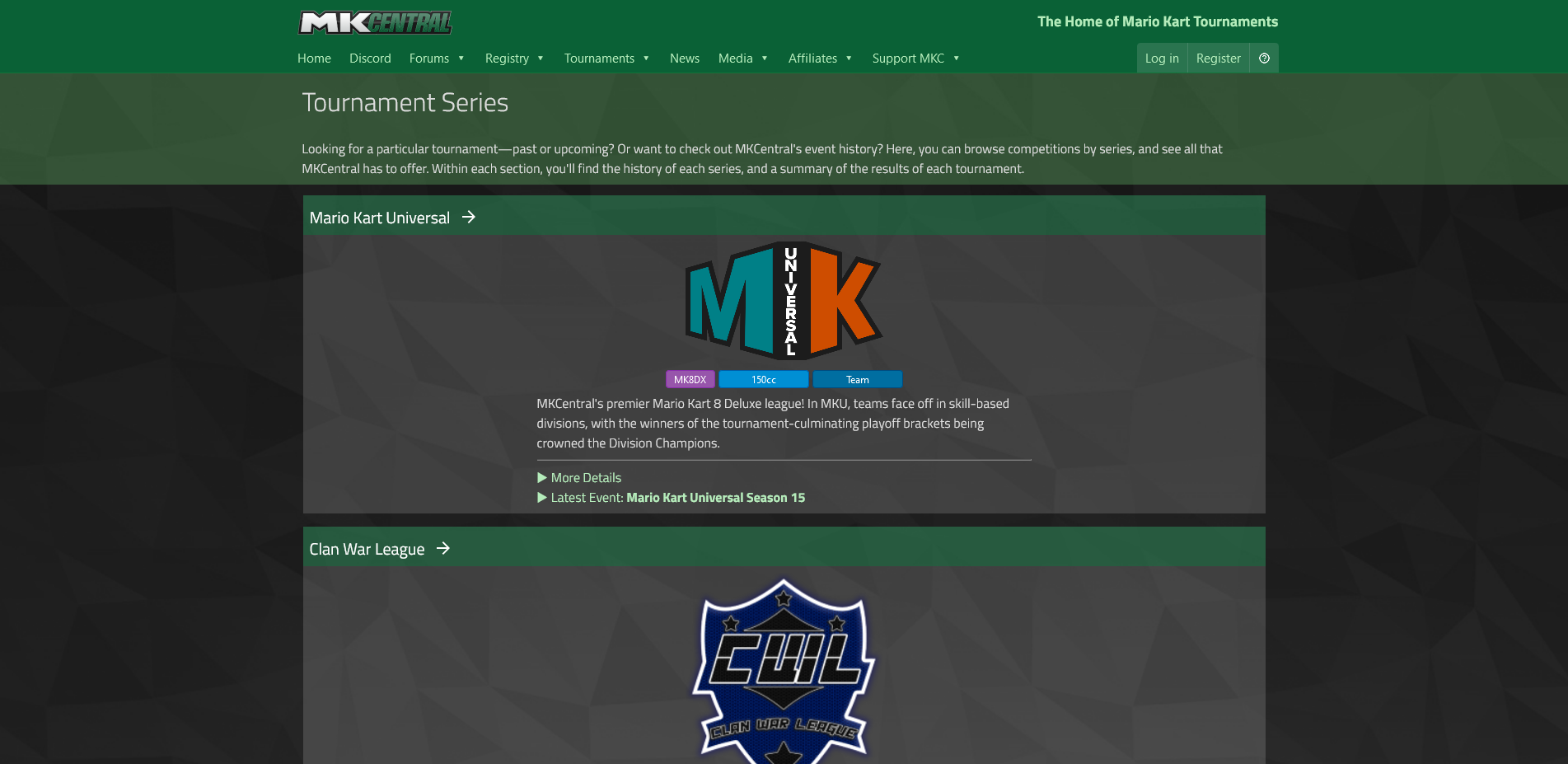 When you click on a tournament series, you'll be taken to a page where you can see some information about the series, and, of course, view all the tournaments in the series. The top three finishers in each tournament are listed, as well as more detailed stats below. Here's what it looks like (for MKU):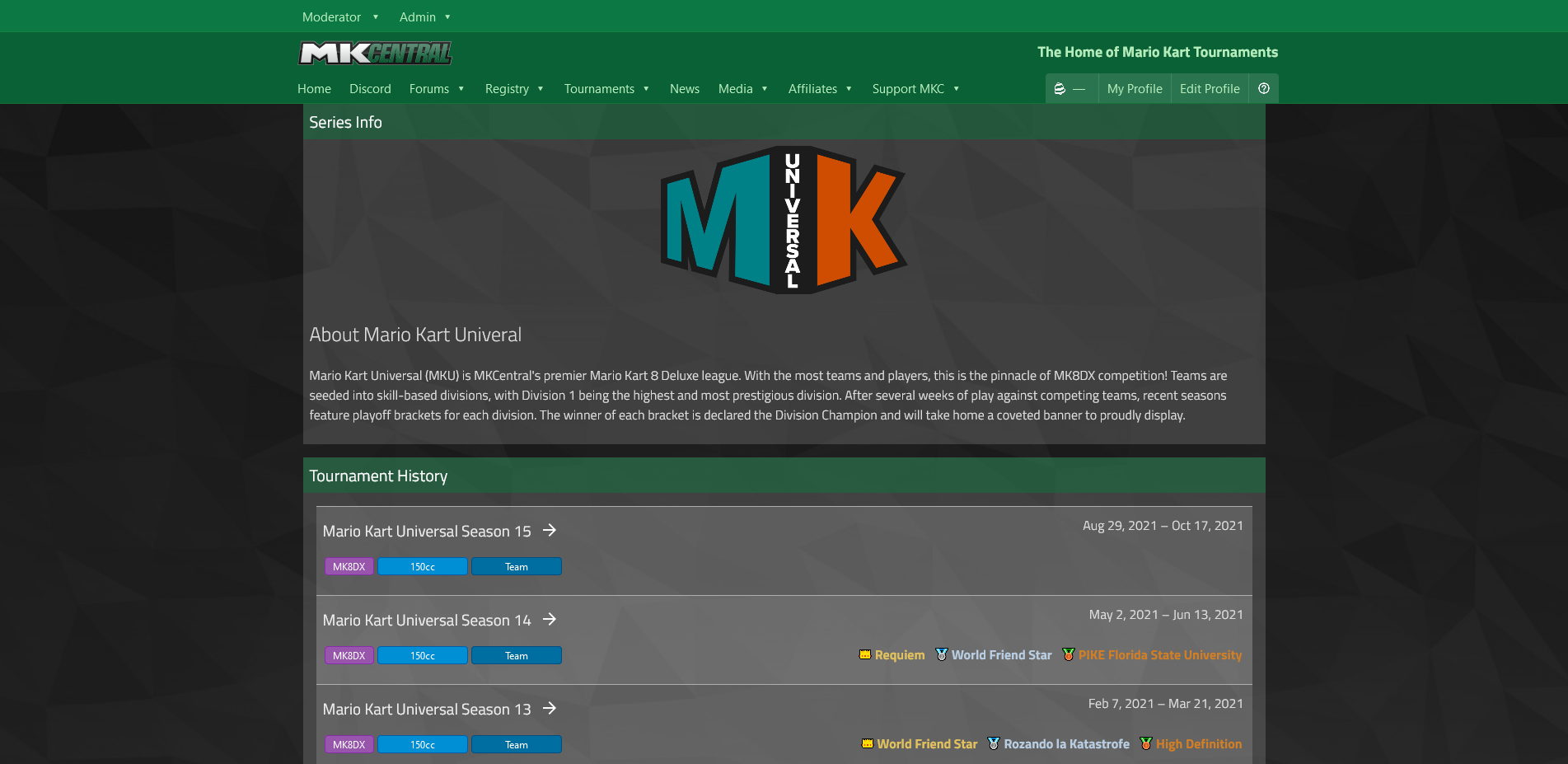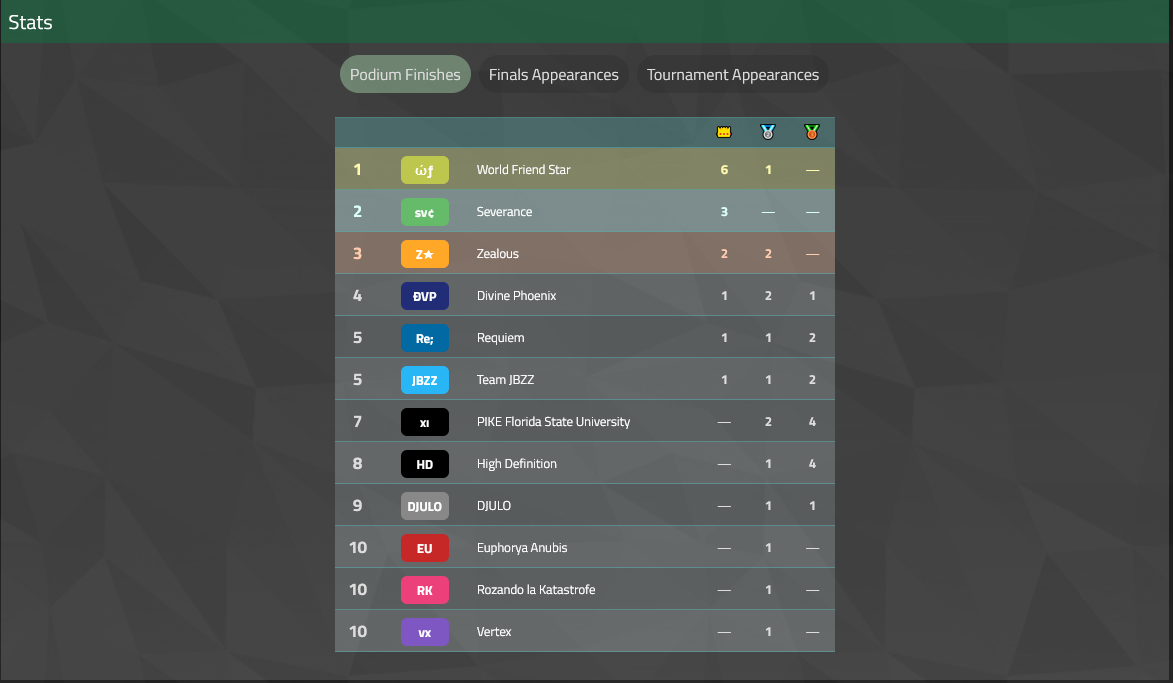 Updates to the Tournament Listing Page
The
Tournament Listing Page
has gone through some design changes. Instead of showing all tournaments (current and past) all on one page, it's separated into three tabs accessible at the top: Latest Tournaments, Past Tournaments, and Pre-MKCentral Tournaments. In addition, you can now
filter and search for tournaments
so you can more easily find the one you're looking for! You can see the new designs below: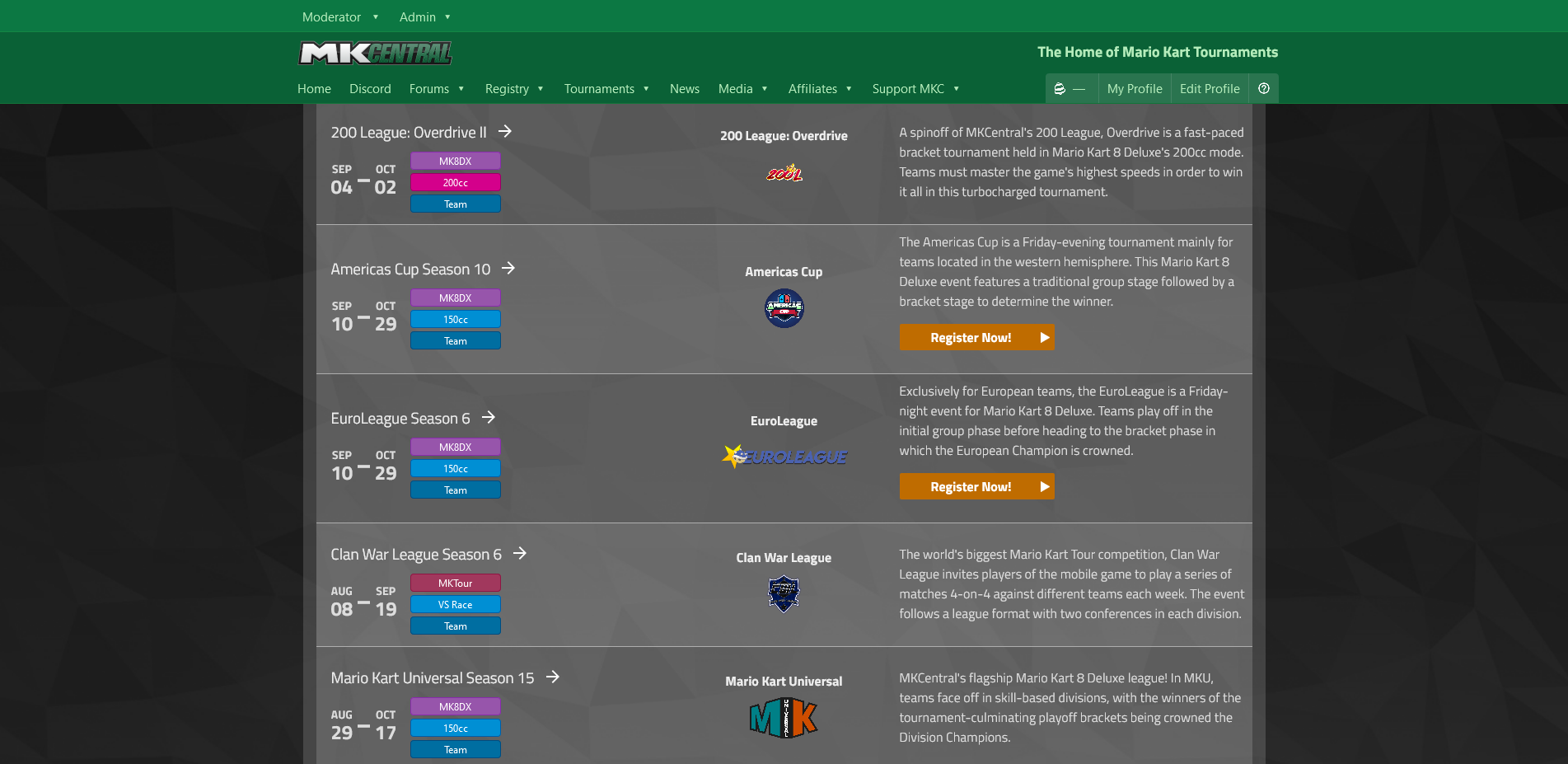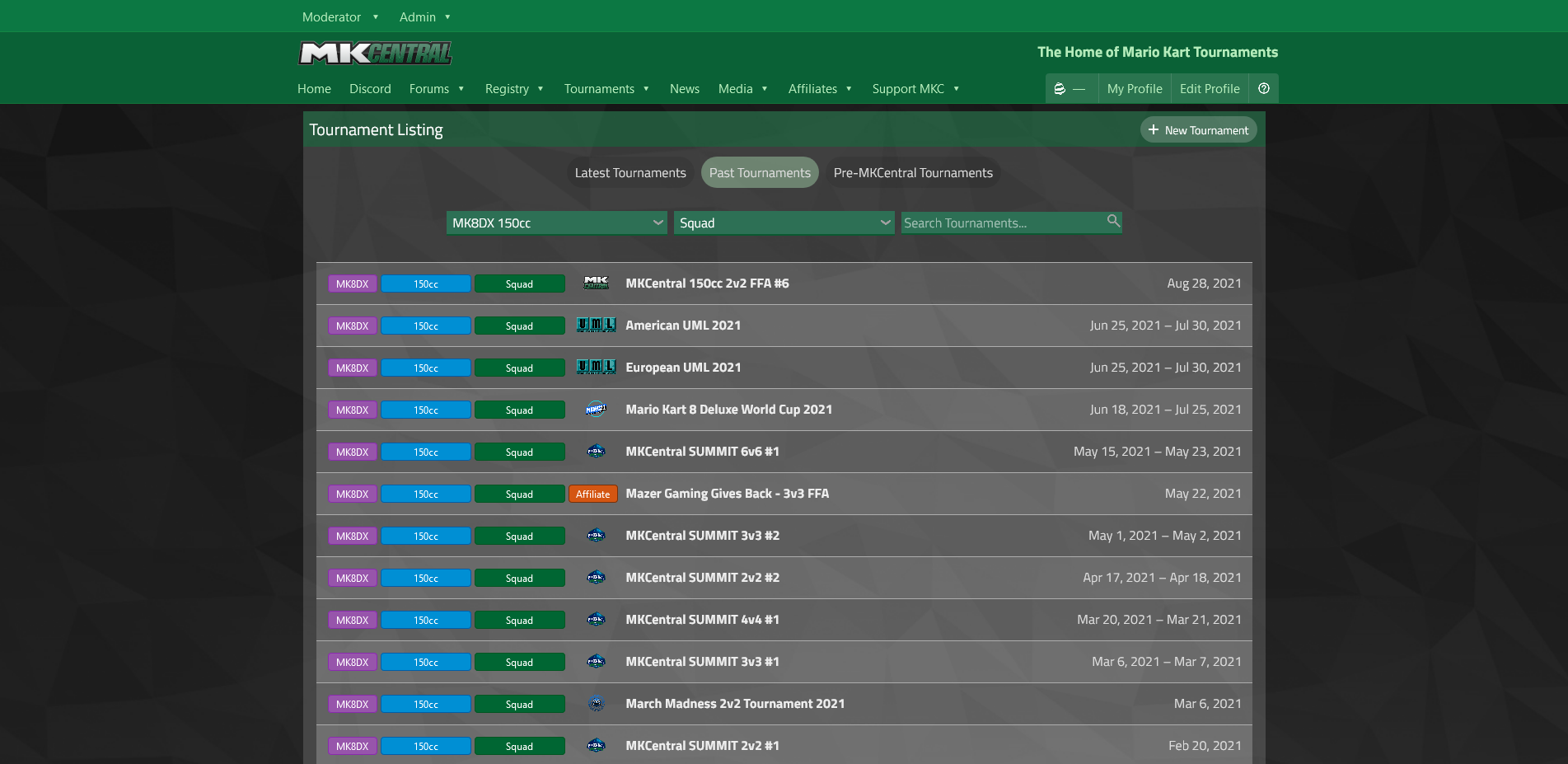 Tournament Page Redesigns
The tournament pages themselves have also gotten a major overhaul. The important thing is that they've been split up into multiple, more focused pages. The main tournament page contains the tournament logo, details, and latest registrations (or top 12 placements for past tournaments). From there, you'll be able to click a button to go to the registration page, or view the list of participants or full placements, all easily accessible throughout the page. Take a look: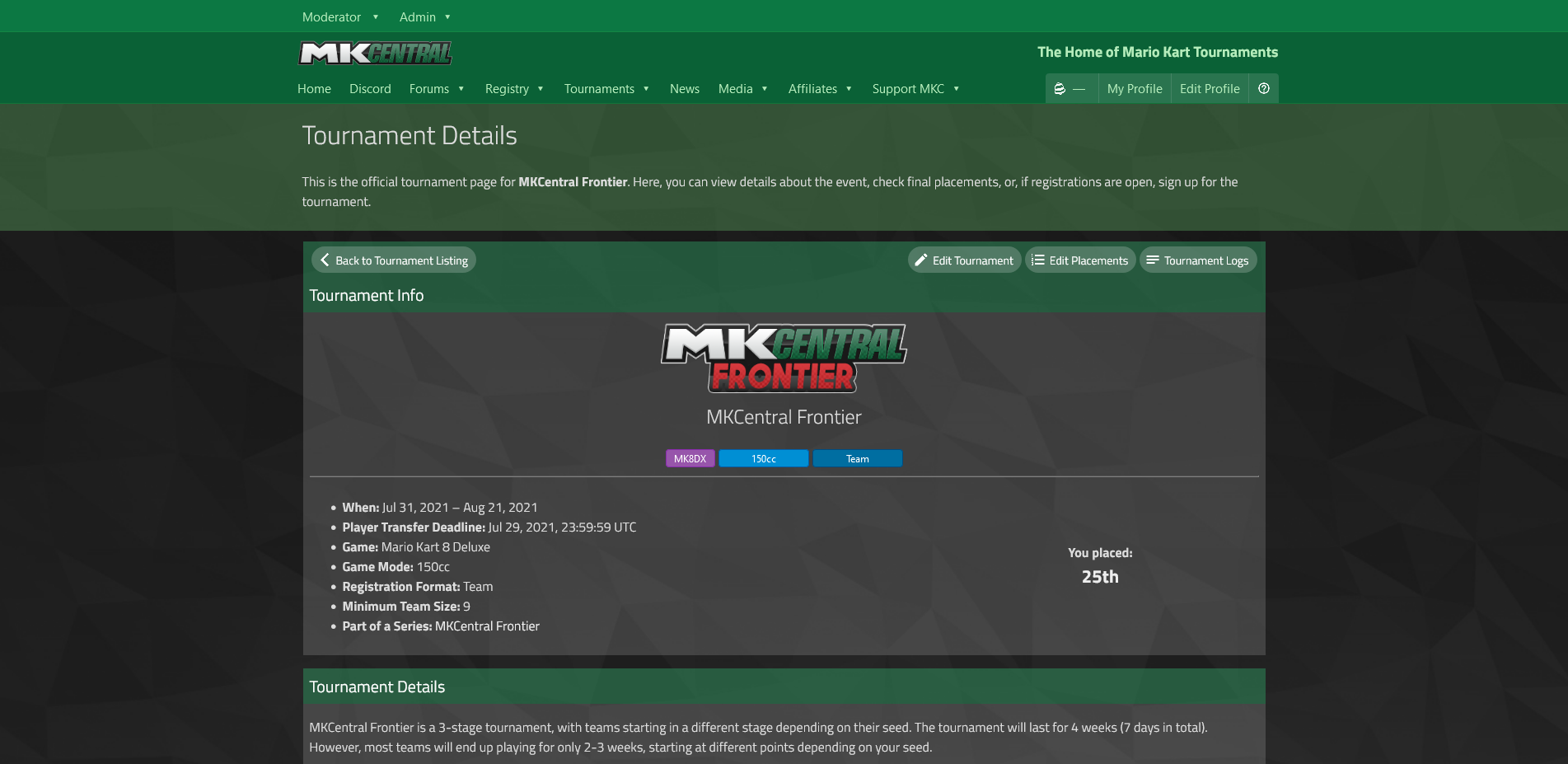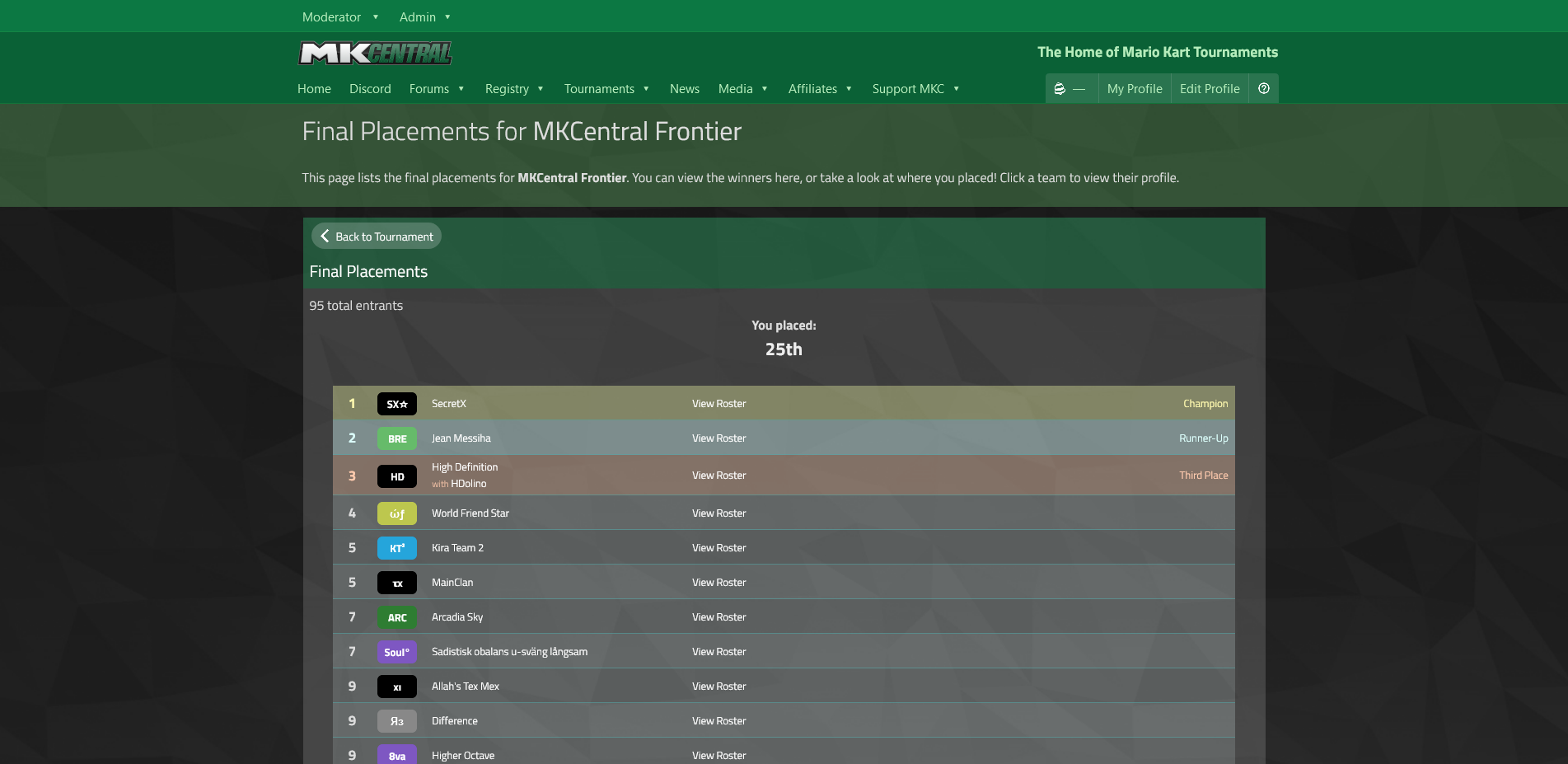 Changes to Tournament Registration
The way you register for tournaments has changed, now being done on a dedicated page for each tournament. This page is accessible by clicking any of the orange "Register Now" buttons throughout the site, whether on the tournament page itself, the tournament listing, homepage, or other pages. For Solo/Squad tournaments, you'll now be asked to confirm your discord ID while registering. Registering should be similar to before, although in the case of team tournaments, team managers now have the option to register any team they manage, either one at a time or by linking a secondary team for the tournament. Not only that, but for solo and squad tournaments, you'll also be able to edit your registration after registering, so you can change your ability to host, your in-game name, or squad name, tag, or color. Here's a quick preview: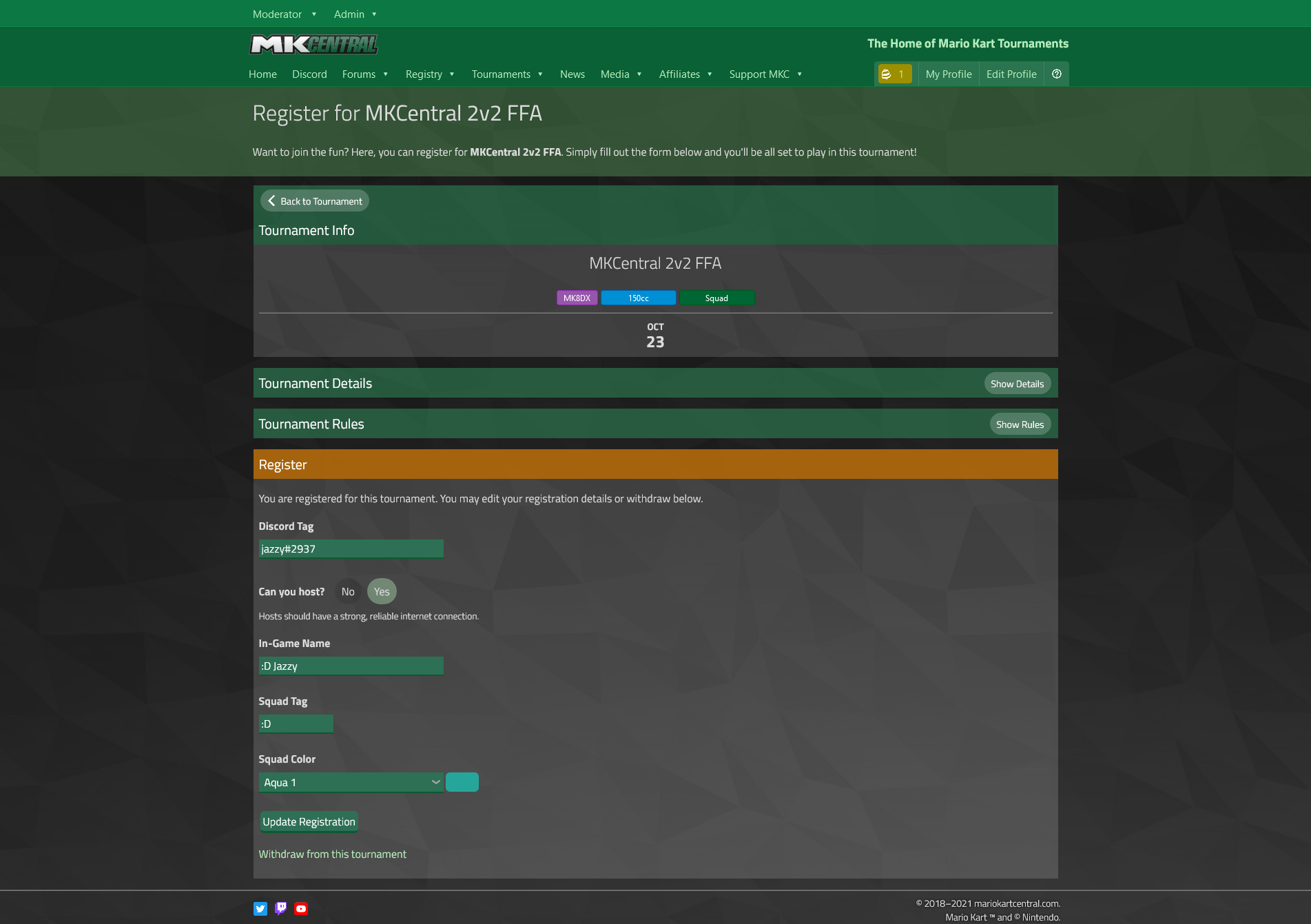 Homepage Changes
The
Homepage
has undergone some changes, although for the most part it's similar to before. However, the tournament listing now only shows current and upcoming tournaments, however more of them than before can be shown at once. In addition, you'll see the
latest tournament's placements
to the right (the top 12), in addition to displaying your own position if you participated. The recent transactions have moved down a little, and with that, we're saying goodbye to the featured player showcase. We received mixed feedback on the featured player panel, so we decided to replace it with something that we hope you'll like better.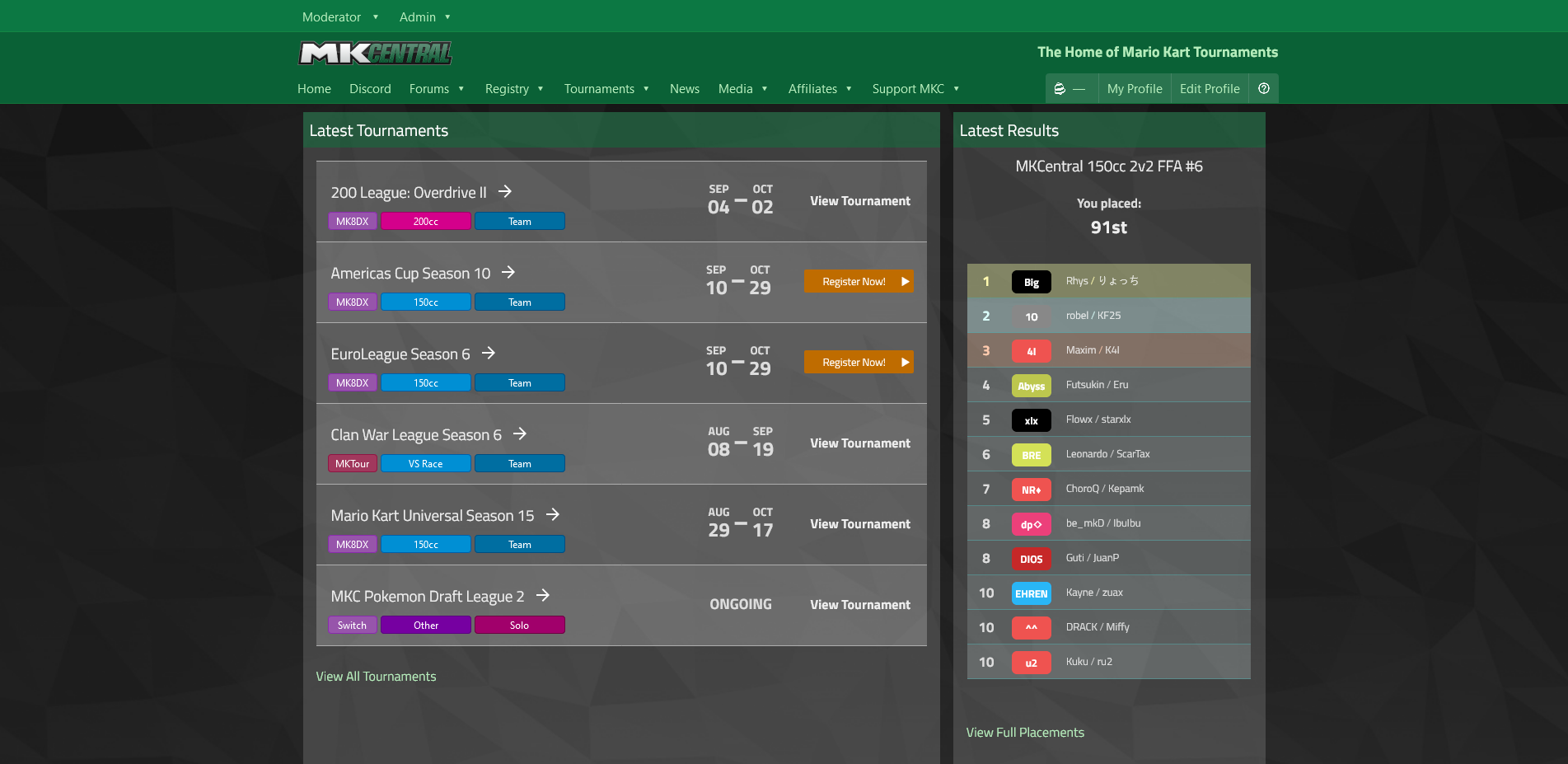 Notifications Page Redesign
The
Registry Notifications Page
has been improved. Instead of showing a list of only notifications from the past two weeks, you'll now be able to filter between unread notifications (new ones since your last visit to the page), important notifications (all notifications with a "Yellow" or higher icon), and also a view to see every notification from all time. The latter two tabs divide your notifications into pages you can navigate, since long time members may have a lot of them.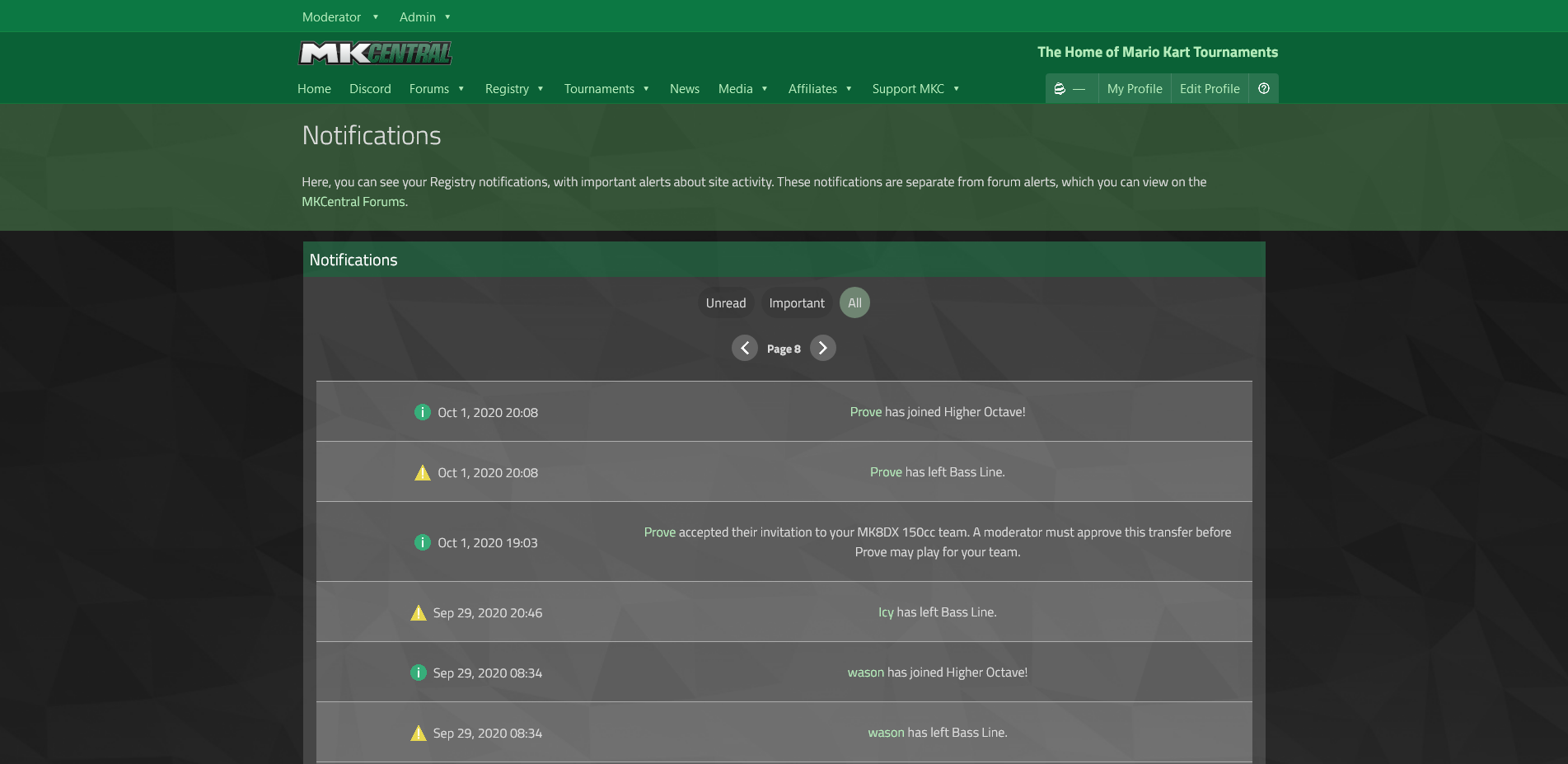 New Supporter Feature: Custom Registry Backgrounds
In addition to being able to change the color theme used on the registry, as a supporter you can now
upload a custom background as well!
This background will only be shown on the registry, not the forums. That being said, it's an awesome feature, so if you're not a supporter yet and want to upgrade, you can
do so here!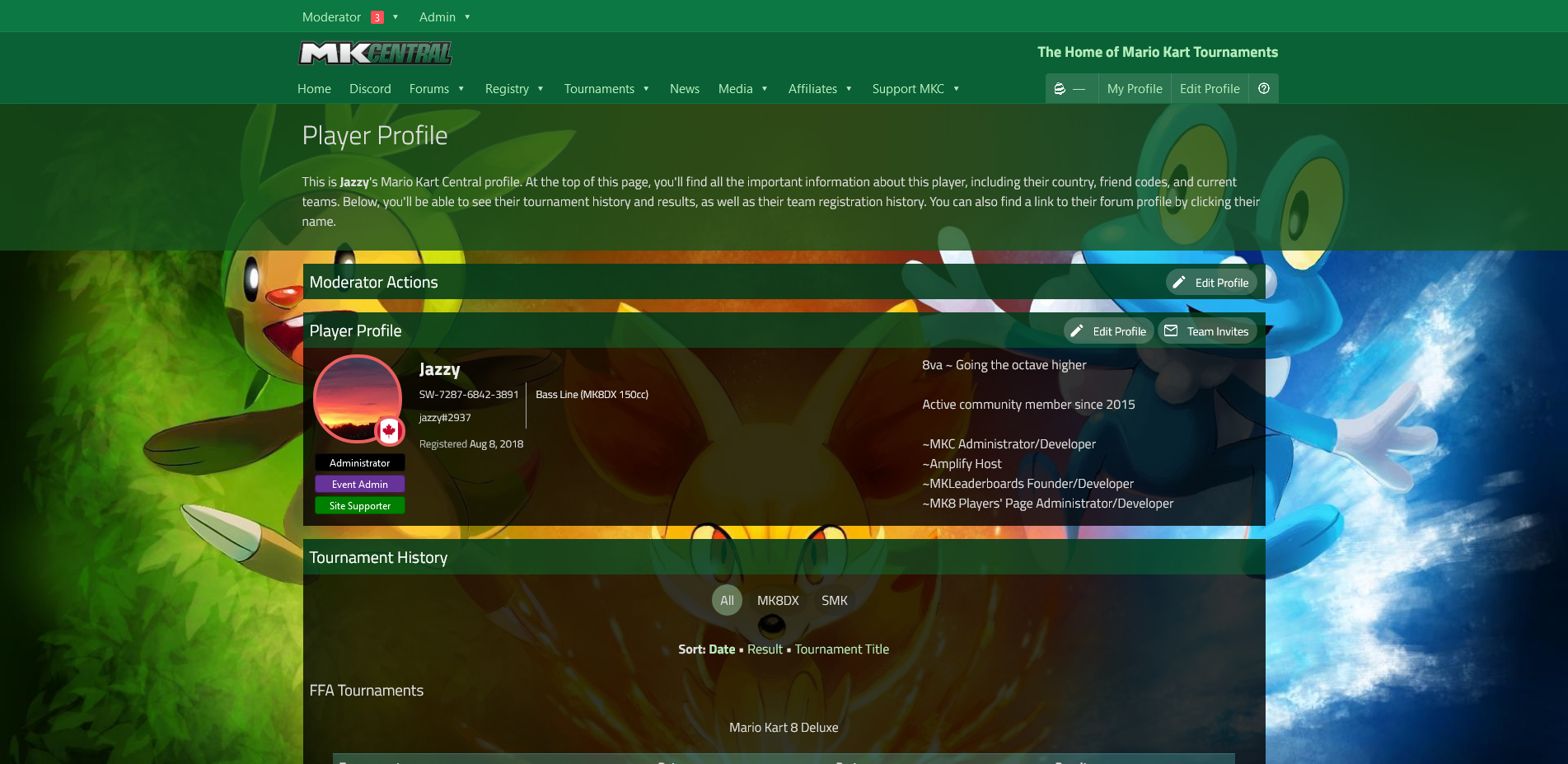 Additional Registry Improvements
In addition to fixing several bugs, there are some other small changes to the registry. Selecting players for your squad when registering is now easier, thanks to an improved player search box. Since we're still testing it out, it isn't available to use when inviting players to your team, but it will be in the future.
The
Recent Transactions Page
(and box on the homepage)
will now show transfers to Free Agents
! These won't show for previous transactions, but will show them for all transactions going forward. This has been a long requested feature so we're happy to deliver.
If you
upgrade to Supporter,
you'll now be given the role on the registry as soon as your payment is processed. This used to be a manual step an administrator had to handle, but it's automatic now.
In addition, we have several new features for site staff and event organizers. There will be a
separate thread
for you to read that highlights the changes relevant specifically to you. If you are one of those people, we ask you to read through those threads since they contain important information.
Going for Bonus Points
Recently, we purchased the domain name
mkcentral.com
from its previous owner, having been registered since the early 2000s. This might not seem like much, but we see it as an important move for ourselves. However, we hope you will enjoy another domain that we recently registered:
mkc.gg
! (For completion's sake, mkcentral.gg and mariokartcentral.gg were also registered.) While they all redirect to the main MKC site, we're going to be using mkc.gg for shortlinks, which include the following (more to be added later):
mkc.gg/register
mkc.gg/forums
mkc.gg/tournaments
mkc.gg/mku
mkc.gg/cwl
mkc.gg/200l
mkc.gg/amplify
mkc.gg/summit
mkc.gg/lounge
We encourage you to spread these links on social media to promote the site, as they are easily remembered, even providing you quick access to commonly used areas of the site (especially if you're on someone else's computer where the site might not be bookmarked)!
Just One More Thing, I Promise...
ShyPraise is now an emote on the forums

Phew! That Was A Lot!
As you can tell, there's been a ton of changes to the site with this update, and it was by no means an easy job, having been in the works for over 7 months. Over 20,000 lines of code were added to the registry, not an easy feat at all. We really hope you enjoy these changes (and those to come), and we value your support. If you want to show your appreciation for the work that goes into this, we encourage you to pay a small fee to
upgrade to Supporter
, which includes a bunch of perks including the one added today (custom registry backgrounds). We also have a
donations page
set up for those who are feeling extra generous. We rely on you, the community, to keep this site alive and running, so thank you! We hope you have a good day, and have fun karting!
—Jazzy on behalf of MKCentral Staff
Last edited: