As we bid farewell to MKU Season 12, this upcoming silly season is shaping up to be more chaotic and entertaining than ever. Not only are we heading into a holiday stretch, but the Amplify VI transfer deadline is looming, just days away.

This update will cover notable players throughout the tail end November, and key transactions from December 13th to December 24th. For teams that got eliminated early from MKU, they took advantage of some transactions prior to silly season that we will analyze in brief detail. For division champions and playoff contenders, expect their moves to be made in the near future.

DEC 8 – All Aboard the Mousou-Express

Mousou-Express, also known as Athaway, is back from a season break and signed prior to the offseason with Arcadia Sky. He has played for a series of prolific teams, including JBZZ with which he won a EuroLeague and Agility title. Mousou-Express also played for Requiem for about 7 months, and a 3 and a half month stint on Nasty Raid Jin.

"I wanted to join ARC because I was searching for a team with which I could compete at the highest level, and is stable enough that I could stay in that team for a very long time if I want to".

Mousou-Express (also known as Athaway)

It was also mentioned that the break was to enjoy Sundays off, and to be available for teams he really wanted to join long term by being one of the top free agents throughout the season. That way, when ARC had a spot available, he could be there.
DEC 13 – APE is Back

Team Ape is back, with Zatlo (Fenix) once again at the helm. Joining Zatlo back is a slew of players, including: Alepard (Greed Island), Lorenzo (Battle Brigade), Nico (Battle Brigade), Redmi (rookie season), Rico (rookie season), TheManu (RK), KoroSensei (Turbo Shells), Dr. Vab (Turbo Shells), Debbo (Turbo Shells), Franz (NMX), and Gomi (NMX). Spaniard Rober and Swiss Athes never left the team, and are being rejoined by the others.

We'll see if this revival pans out for APE. It appears they have a variety of experience across several divisions. They are slated to play in Amplify VI.

DEC 13 – The Last Dance

Pableras (Gomaespuma, Fenix) has created The Last Dance. It is a predominantly European facing team with potential to grow. Pableras is joined by Jan_Chan (Gomaespuma), Alfon (Tuestama la Tostada Emblem), MonoSanti (Gomaespuma), Kabkal (Gomaespuma), Markii (Gomaespuma), Arseneboy (Olympus Valkyries), Dicux (Poki e-sports), el pana monolo (Golden Karts), Cleisei (Olympus Valkyries), Lax3n (Olympus Valkyries), and Vilela (Gomaespuma).

As of the time of this article, Gomaespuma has 17 players registered on their squad- so this appears to be a peel off and GO is in no threat of instability.

DEC 14 – Requiem Adds Two
Requiem has picked up two recruits in Saikz (Dynamite) and Demxn (Melodya, STC). Saikz previously spent the last 9 months in the Dynamite ecosystem… where Dynamite became the D2 champions and also had their debut season in division 1. Demxn spent the last season in division 3, and is another key member for Requiem as they prepare for Amplify.
DEC 14 – Team Pelotillas
Marqinho (Euphorya) has returned after a season away to form Team Pelotillas. Helping lead the team is Mirela (Aether Paradise) who joins after a 9 month stint. Former AEP member Juan was signed to the team as of December 15th. Pikabros from Kame House was next to join on December 16th. Babi is returning to competitive for the first time since their stint on New Age in August of 2019. Shusui is brand new, making their competitive debut for the team. Shusui signed on December 18th. Pelotillas has 6 players so far, and need 3 more to become officially eligible for events.

DEC 14 – Equivoke Returns

On December 14th, Dr. Proctor (Dream) signed with Equivoke, marking their first signing of this silly season. The team has returned with Bowser and Frax leading, and with Kirby, Xakob, Schmutz, and Marimo remaining loyal awaiting the team's return to competition. Riky resigned on December 21st with teammates Lyncas and Zerowski from the NMX ecosystem. We're looking forward to see what other signings this team will have. They are slated to play in Amplify VI.
DEC 15 – The Prodigal Leaders Return

Hanz and Ganon broke off the former KVT Alpha as a rebrand and formed "Prodigy". Prior to silly season starting, Matito, Trebol, Gabs, JBaau and Kevin were the remaining players. With Hanz and Ganon rejoining, they were soon followed by 7 (The Savage Forwards), Gabe (Fenix), Pels (Fast Evils), and Javier GM (Fast Evils), just days later. The team of 11 is slated to showcase their new outfit for Amplify VI.

DEC 15 – Feet, Fingers, Oh My
Inkling Fingers was created by Nathan on December 7th, the "B" team within the iF system. Joining Nathan was Mattex, Joel, Jerry, Javier, Spectrum, Alpaco, Sparky, and Sand (Symphony). These moves happened in early December.

On December 15th, BryWH was relegated from Inkling Fingers back to Inkling Feet. SkyTheKid joins Sand in the jump over from the Symphony ecosystem, taking Bry's spot on the second team.

Varo also left Dynamite on December 15th, joining Inkling Feet with Bry.

DEC 15 – Midnight Wasps Gains Leo

Midnight Wasps gains Leo from Rainbow Fun after he had a 6 month stint with the French team. Leo also joins German player Yuki (Rainbow Fun) as the 2nd MW recruit heading into season 13.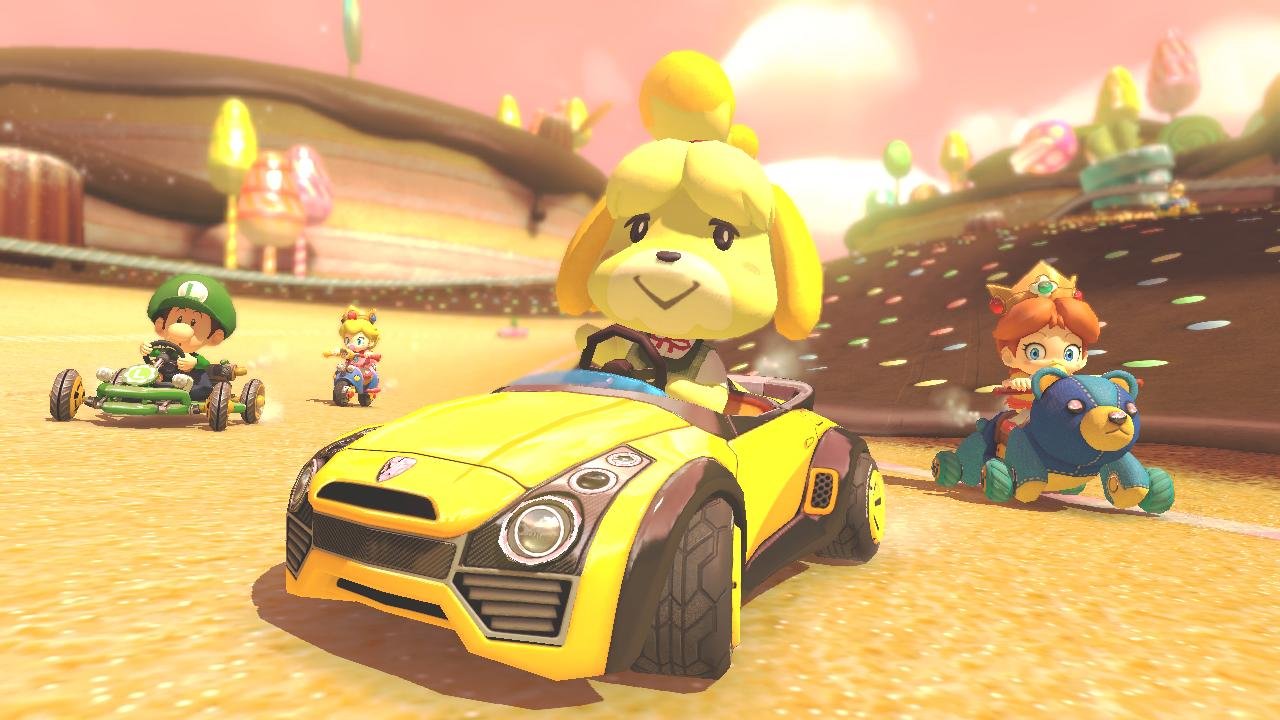 DEC 16 – CHOCO KART Gains in Numbers

Choco Kart leader Sr. Chocorobot founded the team on November 2nd, 2020. Joining him, Valemacarena, and SkyBlue are three new recruits: Consome, El Teto, and Josee099. At least three more members to go before Choco Kart hits the grandest stage of them all: MKU.

DEC 16 – KAMIKAZE Sets Fire to the Registry

Kamikaze formed in August of 2020 with leader Joeey and with recently added support in early December from Seazxn (Royal Stars). Kamikaze is set to make their tournament debut in Amplify Vi. Recently, the team added 3 new recruits: Taelico, Brook, and Kori. This brings the team to 13 members. A majority of the team is entering competitive MK8 for the first time.
DEC 16 – Star Clan Supreme Finishes Their Roll Up

Star Clan is known for a series of off season transactions, and this silly season is no different with Solar being absorbed by their main team – now known as Star Clan Supreme. Green, Saezuri, Harry, YoshiRacer, LX, Ethan_, Enri, and Pure all have moved up from the now defunct Star Clan Solar.
DEC 16 – RK Makes A Mark

After a season on the sidelines, you can make the argument that RK will be out for blood upon their return. The Sliver, Engel, and Drack managed team has added on two new recruits to increase their roster to 14. Ryans (last in action for Prestige) and Guti (relegated up from RK2) are joining the group for this upcoming season.

There has been a significant amount of movement on RK2, so we'll have to see if the 8 player roster will make it through the offseason or if there will be new recruits added to make them tournament eligible. A majority of RK2 did end up bailing for Black Wolves.

DEC 16 – Dark Souls Adds Three
Dark Souls added three Spaniards to the team in FiReBlokl, Goku, and Chino. Fire is transferring from Galatic Wheels, while Goku and Chino were former teammates within Kame House.

DEC 16 – Project HIVE Adds Three

Similar to Dark Souls, Project HIVE has added three new players so far. This includes Steve, Lars_Chan, and Niklass. Steve and Niklass come over from Royal Stars, Lars_Chan from Exodus. As of this article, Project HIVE has no plans yet to enter into Amplify VI.

DEC 17 – Ster and Lin Couple Up with Zodiacs

Ster and Lin have both signed together with Zodiacs as of December 17th. Ster has been out of action since Season 9, so it will be interesting to see how this first season back bodes for him. Likewise, Lin is looking to enter her second MKU season and has yet to play since MKU Season 9 The pair are both moving over from Horizon, which shut down in April of 2020.

DEC 18 – American Gunslingers Doubles Up
American Gunslingers pulls the trigger on creating a second team on December 18th. The second team is lead by The Truth and somrat, Joining team two are Steen, Demani, Ashli, Big Ken, Gamer1, ThaGoat, Spooky (Nerd Prom), and Bby Lev (Nerd Prom). The majority of the team is coming over from the main team, with no other past clan experience. Ideally, this should give the developmental players the ability to get MKU starts and ample playing time.

That being said, American Gunslingers sees Big Ed moving back to lead, with WokeWumbo (Siege) and Ginja (Fatal Anchors) joining for this season.

DEC 18 – Santy and InLove Move to Savage Forwards

Santy moves to The Savage Forwards after a two month stint on difference, along with InLove, who spent the last season on Dark Phantom Knights.
DEC 18 – Another Extreme Element Adds 3
Joaquin joins after a season off and jumps from Golden Karts to Another Extreme Element. Luigi On joins after a month break from AXE, along with Marvin (Itollani Warriors).

DEC 18 – Noob Revolution Re-signs Claudio

After a month break, NRV re-signed Claudio to rejoin the team for the upcoming season.
DEC 18 – Nferno Blaze Returns

December 18th saw Mickey return to Nferno from Zodiacs. Rejoining a day later from Star Clan Supreme was Paul. Denno played the past season with Dynamite Alpha, but has also resigned now as the leader. Devoty also resigned on December 24th who was a key contributor in the past to the team. The team is still at 8 players, but it is expected that they will continue to make moves this offseason to put themselves in a competitive position for Season 13.

DEC 19- Pandala Signs Four

AC2 (Legend of Stars), Cahuete (Melodya), Maho (Rosa), and Faker3 (Rosa) all resigned with Pandala. For all but AC2, they have had a previous tenure on the team. This increases Pandala's member base up to 17 prior to Amplify and MKU Season 13.

DEC 20 – The Pack is Back

KenshiSenpai returns as the top dog in a whopping 13 transaction move to revive Black Wolves. Sticking with the team since the April 2020 hiatus was Hiro and Xavi from Spain. Diego (Valyria) and DaniPro (Elixir) are both set to return to lead as well. Black Wolves is a predominantly Spanish team and they are returning with a mix of synergy from Kame House, RK, Aether Paradise, Elixir, Valyria, and more.

DEC 20 – Symphony Strengthens in Numbers

Symphony has added four new players to Octave this offseason and took advantage of some moves prior to silly season officially getting underway. Jack (Equivoke) has joined, playing for the first time since June of 2020. TwoFlips was recently relegated up from Bass Line after 7 months on their second squad, becoming what is now the 9th active member of Higher Octave. BenFoolery also was signed after a 7 month stint with Nerd Prom. Lastly, Virgo rejoins after being signed on December 24th – not pledging allegiance to any team since he debuted on MKO from April to August of 2020.

DEC 21 – Rainbow Fun Consolidates

Right off of the momentum of their D9 win, Rainbow Fun 2 rolled up back into Rainbow Fun. It is an interesting move- with only 1 players sticking around prior to the RF2 players rejoining the top squad. Swiss player DJR will manage the team. Also part of the 11 transaction move is Royal45000 – coming over from Sweatyzard.

DEC 21 – Gugnir Forms

Managed by Sorata (Star Clan), Gugnir is a french based team with a mix of players from a variety of teams on MKC. TheMax (Rainbow Fun), Zefe (Rainbow Fun), Loic (Drift Riders), Teqzo (Melodya), Kazuto L'Inspectur (Knights of Wheels), Winter (Star Clan), Fast (Drift Riders), and Cocozie (Souls of the Circuit) have all jumped on board. Both former Star Clan players will help lead the squad into their first season.

DEC 21 – TR Esports Gains Four

TR Esports 2 gained Piojo (Kame House), Inklink, Ale Z Plumber, and Titobousi (Emblem's Academy)

DEC 21 – Introducing Dragon Bill

Dragon Bill is a 15 player French squad led by Phenyyx (Knights of Wheels). The majority of the team is brand new to the scene.

DEC 22 – NMX Underground Goes Dark
With NMX Underground down to 3 players, a sweeping move brought a majority of players to the main team. This includes Pero, Bownsi, Amos, Next (listed as their manager), Gecko, Ball, and Pepino.
Notable Individual Transactions (Dec 13 to Dec 24)

Ozokerite from the MKTour scene has signed with Storm Rush Gaming. SRG had some unique adds towards the end of November as well with Tone from Symphony, and Elena from Siege.
Also moving on from the death of Siege is Hi. Hi. has since signed with Battle Brigade.

Jay from Project Hive has signed with Nferno Volt after a month and a half on the developmental team.

Signalex has joined Battle Brigade after a two month stint with KNIFE.

Kim from France, who we haven't seen in action since their one month stint in 2019 on Zealous, has rejoined the scene and will be playing for Fatal Anchors.
Kimo has been relegated up through the Dynamite ecosystem, going from Omega to Alpha.

Kaos has moved from Fast Evils to Fenix Z.

KrazyKrisi moves from WEC Silver to Exodus 2.

Blue (Mystery Team) has moved to Knights of Wheels.

Littea migrates from Nerd Prom to Dynamite.

DevilJoker signs to Cusha Team from Noob Reborn.

Jev relegates up to Dynamite Alpha from Dynamite Omega.

Joronimo is relegated down from Pirate Hackers to Pirate Hunters.

Peekaboo joins X Project.
Diego6 joins Kartnita Asada from Difference.
Francis joins Battle Brigade from Pirate Hunters.
Toni moves from Difference to Resemblence.
Platinum Disco joins Zodiacs from Dynamite.

The next installment of Silly Season will cover the most recent transactions have have shaken up from December 25th to January 1st.